8 Best DIY Natural Face Scrubs for Glowing Skin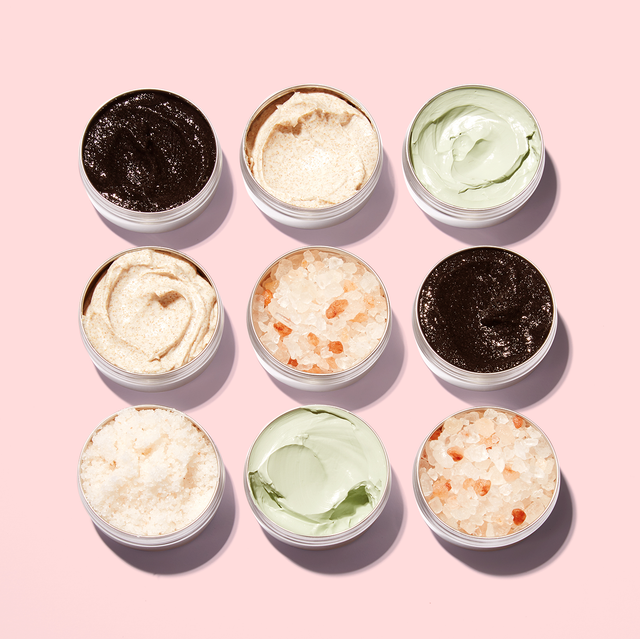 Looking to get glowing skin and have a little fun in the kitchen? We've got you covered. Whether your skin is dry, acne-prone, oily, aging, or just in need of a boost, there is a homemade natural face scrub for your needs. All you'll need is a mixing bowl, measuring cups and spoons, a liquid or cream base, and the ingredients you want to add in. From there you just need to mix and apply, says Rachel Roff, founder and CEO of Urban Skin Rx.
"Many DIY face scrubs are based on traditional remedies," says Joanna Vargas, celebrity facialist and founder of Joanna Vargas Salons and Skin Care. "Some of these recipes were developed when there wasn't accessibility to products. You'll see your skin is instantly softer and brighter after using them."
Worried about the safety of DIY face scrubs? Don't stress, Balensi says: DIY face scrubs are generally safe to use since the natural ingredients aren't likely to cause skin problems. When applying, remember to use gentle movements and light to moderate pressure to prevent irritation and avoid the delicate eye area.
How to make the best DIY face scrub for your skin
There are many ways to exfoliate skin naturally. Coffee grounds, sugar, finely ground sea salt, cinnamon, and oats are some of the best ingredients to use in a homemade exfoliating scrub, Roff says. She is a big fan of sugar face scrubs, as they can brighten dull skin and fight signs of aging. They remove dead skin cells and surface build-up to reveal new, healthier skin and speed up the skin renewal process. Just make sure that the sugar granules are finely ground and small enough so that they don't irritate the face, she advises.
When it comes to the "best homemade face scrub," it all depends on your skin type, says Lorena Balensi from Balensi Spa. When choosing a DIY facial scrub, look for one that is meant for your complexion type and targeted to treat your skin issues. Ingredients like salt and baking soda are better for oily or breakout-prone skin, while those with dry or sensitive skin should choose gentler exfoliators like oats. If you have combination or normal skin, sugar and coffee grounds provide a balanced buffing.
Now that you've got the scoop on scrubs, it's time to start mixing! Check out the eight best DIY natural face scrubs from skincare pros for every skin type, goal, and concern, from breakouts to brightening and more.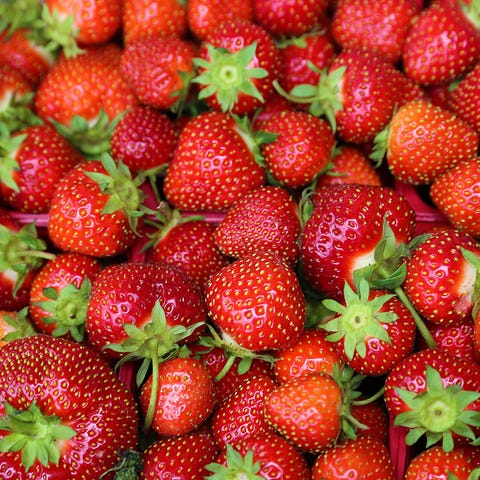 1
Acne-Fighting Strawberry Face Scrub
Prevent (and treat) pimples with this fruity acne-fighting yet soothing face scrub. If you're bothered by persistent breakouts, or dull, oily skin, this scrub will help brighten, clear and reduce surface bacteria, Vargas says.
Recipe:
1 cup plain yogurt
½ cup mashed strawberries
½ cup almond meal
A splash of raw apple cider vinegar
Mix all ingredients and lightly buff the blend onto on skin. Leave on for 15 minutes, then rinse with warm water.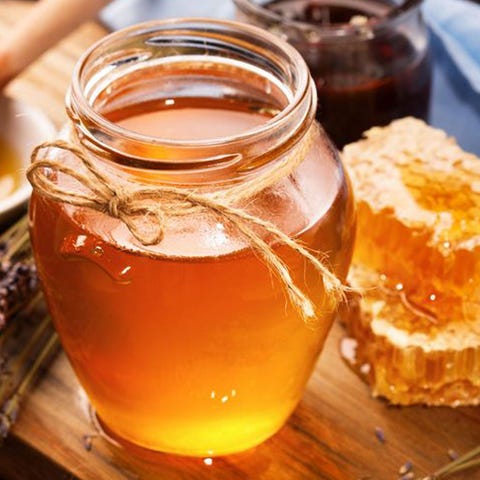 2
Hydrating Honey Cherry Face Scrub
The sweet stuff is great for hydrating skin, Vargas says. Use this honey face scrub whenever your complexion needs a boost of nourishment and exfoliation at the same time.
Recipe:
5 cherries
1 tbsp almond powder
1/4 cup honey
1 tbsp brown sugar
3 tbsp yogurt
Mix together and gently scrub onto skin for 30 seconds, then rinse with warm water.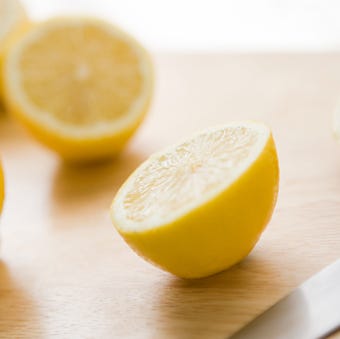 3
Blackhead-Busting Lemon Face Scrub
Bye, bye blackheads! Try a scrub with lemon juice to get rid of them for good. Lemon juice has antiseptic properties that aid in killing off bacteria, Balensi explains. It's also great for reducing sebum and inflammation. Just be mindful with the amount of lemon juice you use—it's acidic, so too much can irritate skin. And it can make your skin extra sensitive to the sun, so always apply sunscreen afterward to protect against UV damage.
Recipe:
½ tsp lemon
1 tbsp salt
1 tsp purified/distilled water
Mix the ingredients well and rub the paste onto skin in a circular motion. Gently scrub for two to three minutes, being careful not to rub too hard. Rinse off with warm water and follow with the rest of your skincare routine.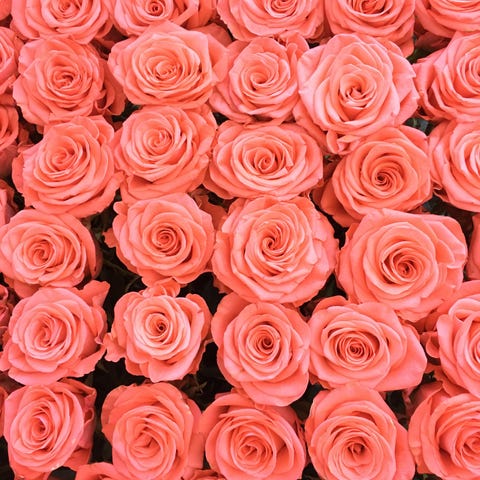 4
Anti-Aging Rose Face Scrub
Talk about an anti-aging all-star. Vargas' light, oil-based scrub hydrates skin, tightens pores and reduces inflammation, making your skin noticeably brighter. The ground almonds exfoliate and smooth out wrinkles to help turn back the clock, too.
Recipe:
2 tablespoons grape seed oil
5 teaspoons ground almonds
1 teaspoon warmed honey
2 drops rose oil
Blend all ingredients together in a small bowl, then buff onto face and decolletage. Rinse with warm water.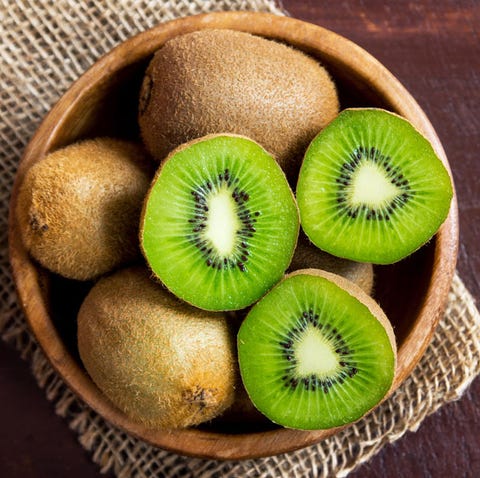 5
Mattifying Kiwi Face Scrub
Kiwi is rich in amino acids and vitamin C, both of which help reduce excess production of oil in skin. In addition to being a cooking staple, olive oil contains strong antibacterial properties and actually helps stop the skin from secreting excess sebum, Balensi says. Plus, brown sugar sloughs off dead skin cells and hydrates, which (bonus!) gives your skin a healthy glow.
Recipe:
1 whole kiwi (peeled and mashed)
2 tsp brown sugar
A few drops of olive oil
Stir all the ingredients together, mixing well. Gently rub the scrub onto skin in a circular motion for three to five minutes. Remove with warm water.

6
Brightening Oatmeal Face Scrub
Radiance, revealed! This rich, creamy face scrub is perfect for dull, tired skin, as it softens, calms redness, and gives skin a much-needed boost, Vargas says.
Recipe:
1/4 cup honey
1/2 tablespoons brown sugar
1/4 cup milk
1/2 cup cooked oatmeal
Combine all ingredients and mix until you achieve a thick yet grainy texture. Buff onto your face, then rinse.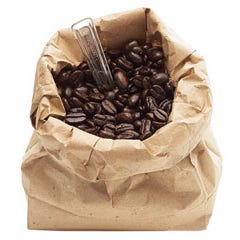 7
Glow-Boosting Coffee Face Srub
Give your complexion a jolt of caffeine for a quick brightening boost. Coffee has many rejuvenating benefits for skin—it instantly wakes up your face while gently exfoliating, Roff explains.
Recipe:
1/2 cup freshly ground coffee
1/2 cup yogurt or milk
1 tbsp of honey
Mix ingredients together and gently smooth onto skin. Rinse with warm water.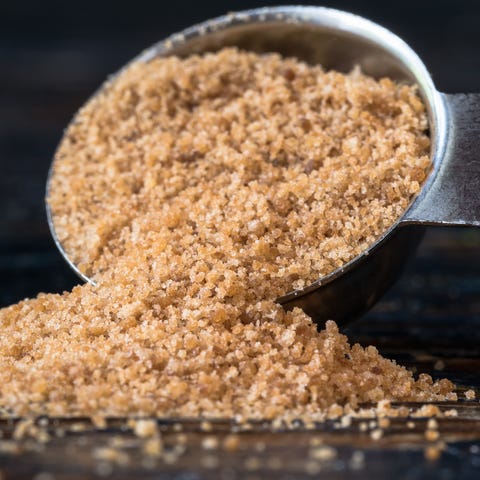 8
Smoothing Coconut Sugar Face Scrub
Sugar is a classic exfoliator and for good reason: it helps to smooth skin without drying it out like salt can, Vargas explains. This sweet face scrub also contains coconut oil to help to soothe and hydrate skin, thanks to its omega-3 fatty acids. Plus, the high levels of polyphenols in matcha help to increase skin cell growth. The tiny bit of honey helps deeply nourish skin at the same time.
Recipe:
1/3 cup coconut oil
1 cup of coconut palm sugar
1 tablespoon of organic matcha powder
1 tsp organic honey
Mix all ingredients together and gently scrub your face, then rinse well. (Feel free to use any excess on your body.) Expert's note: This scrub should be used two or three times per week.
---